YOU EARN MORE
WHEN YOU
LEARN MORE
We offer online and offline education
courses and certifications to builders,
contractors and tradesmen.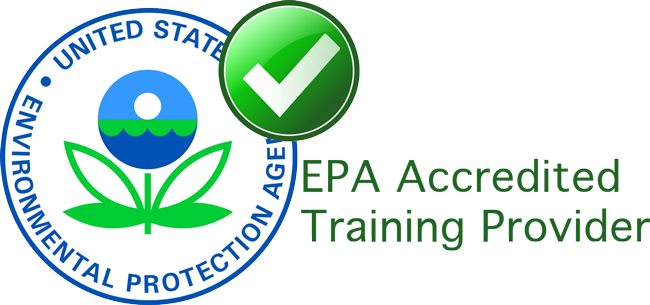 Need training? We have you covered!
We offer many courses, covering areas including: EPA Certified Renovator, Lead Abatement Supervisor, Lead Worker, Lead Inspector, Lead Risk Assessor, Mold Remediation, OSHA Compliance, Con-Ed / Continuing Competency, Builders 60 Hr Pre-Licensure Classes, 2 Hr Asbestos Awareness, Asbestos Abatement Supervisor Contractor, Asbestos Inspector
Browse Courses

E-Learning
Learn on your own time. Our online courses help you get certified without waiting for a scheduled course or having to show up in person. Sign up now to start learning today.
Excellent Instruction
We have trained and certified hundreds of professionals and with over 12 years hands-on experience in the industry, we train you to get the job done correctly.
Volume Discounts
Have a company? We offer discounts to companies so you can certify and train all of your employees. Our initial, refresher, and continuing classes keep your employees certified and help you avoid costly fines.
Featured Courses
Course Categories
Testimonials
Thanks a lot for yesterday's training. You were clear and to the point. The subject material makes sense and it was presented well. Your practical approach is refreshing and you see through the bs that is tossed around by the EPA, DOE, etc. And here is one for you, I don't think that you charge enough for this service. I got a bargain at $200.00. I'm just sayin'. Ed was my instructor for lead inspector and risk assessor. Ed's complete understanding of the material and real world experiences made the class enjoyable. His unique classroom facility and in-the-field applications of the subject material helped me to grasp the concepts and retain them. Even after the class has ended I can still count on Ed as a resource if I have questions. I would highly recommend Ed for anyone looking for lead contractor training. Ed is an incredible trainer with a lot of energy and enthusiasm. He is a must for today's construction practices! Ed's training sessions for Saginaw Habitat for Humanity were very thorough and very "user-friendly". Ed went the extra mile with a couple of our staff members and gave them the extra attention needed to not only pass an exam but to truly grasp what he was teaching.