YOU EARN MORE
WHEN YOU
LEARN MORE
We offer online and offline education
courses and certifications to builders,
contractors and tradesmen.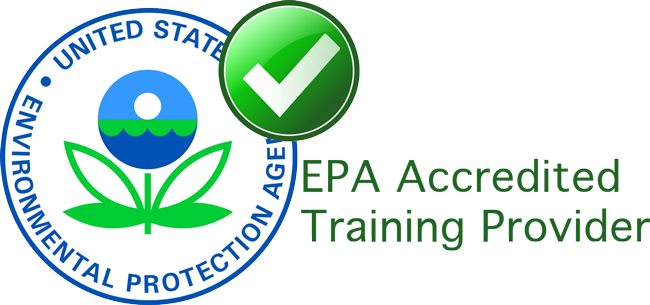 Need training? We have you covered!
We offer many courses, covering areas including: EPA Certified Renovator, Lead Abatement Supervisor, Lead Worker, Lead Inspector, Lead Risk Assessor, Mold Remediation, OSHA Compliance, Con-Ed / Continuing Competency, Builders 60 Hr Pre-Licensure Classes, 2 Hr Asbestos Awareness, Asbestos Abatement Supervisor Contractor, Asbestos Inspector
Browse Courses

E-Learning
Learn on your own time. Our online courses help you get certified without waiting for a scheduled course or having to show up in person. Sign up now to start learning today.
Excellent Instruction
We have trained and certified hundreds of professionals and with over 12 years hands-on experience in the industry, we train you to get the job done correctly.
Volume Discounts
Have a company? We offer discounts to companies so you can certify and train all of your employees. Our initial, refresher, and continuing classes keep your employees certified and help you avoid costly fines.
Featured Courses
Course Categories
Testimonials
Thanks Ed, you did a great job today. Your presentation was excellent. I now know more than when I woke up this morning. "Hi Ed. I recommend you to anyone looking for lead remediation education and expert witness work. Great job!!!" Ed thanks so much for the EPA Certified Renovator class today. I was very impressed not only of your teaching ability but your knowledge. Its been a hard road for me to adjust from building to remodeling. But I believe the way you do, that is do it right or get out. Thanks again. Terry Dunn "I have worked with Ed for some time now and I have found his level of professionalism to be outstanding and backed up by his actions. Our feed back from his classes has always been very good with comments like "the class was well thought out and the hands on examples were very thorough and informative. " Ed's personal knowledge of EPA codes and standards is exceptional. His ability to explain jobsite situations that our customers can relate to has made his class a true learning experience. Even for our novice contractors. He has shown an ability to create a classroom atmosphere that anyone can learn in is what puts his class above his competition. We will be using Ed and his staff again in the future." Ed, I wanted to say thank you for taking the time to certify myself and our site super at the Home Depot in Eden Prairie. We are excited to be able to offer new services to our clients by being certified in lead safe work practices. Thanks for your time & help.