YOU EARN MORE
WHEN YOU
LEARN MORE
We offer online and offline education
courses and certifications to builders,
contractors and tradesmen.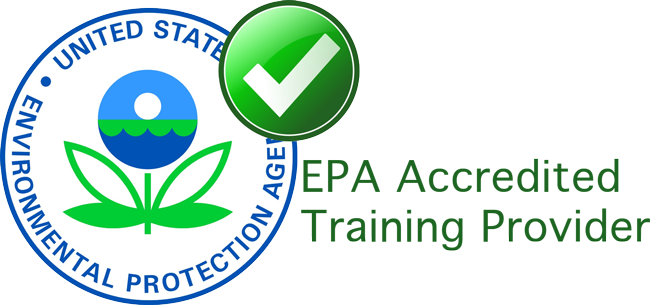 Need training? We have you covered!
We offer many courses, covering areas including: EPA Certified Renovator, Lead Abatement Supervisor, Lead Worker, Lead Inspector, Lead Risk Assessor, Mold Remediation, OSHA Compliance, Con-Ed / Continuing Competency, Builders 60 Hr Pre-Licensure Classes, 2 Hr Asbestos Awareness, Asbestos Abatement Supervisor Contractor, Asbestos Inspector
Browse Courses
Online Learning
Learn on your own time. Our online courses help you get certified without waiting for a scheduled course or having to show up in person. Sign up now to start learning today.
Excellent Instruction
We have trained and certified hundreds of professionals and with over 12 years hands-on experience in the industry, we train you to get the job done correctly.
Volume Discounts
Have a company? We offer discounts to companies so you can certify and train all of your employees. Our initial, refresher, and continuing classes keep your employees certified and help you avoid costly fines.
Testimonials
"Ed Wenz, has trained my staff in the lead renovator course which was an eight hour session. Since that time Ed as assisted my company with not only potential job opportunities, but also directed potential employees to us as well. He has demonstrated great communication, and follow through on all business dealings, while being extremely ethical and honest as well." I first worked with Ed when I hired him to perform lead training for myself and several employees. Since then, Ed has become a trusted and reliable resource for our company. On several occasions he has provided consultation services for various projects. He is always available to answer any questions or provide advice when needed. I would highly recommend Ed to anyone looking for an expert in the lead industry. Ed is an excellent trainer with a knack for making even the most mundane topics fun and interesting. If you are looking for a knowledgeable trainer who can keep your employees engaged in the topic, give Ed a call. Instructor was very knowledgable and keep the class interesting. He was able to use his personal experience to help you understand. I would recommend him only to anyone who is looking to take this class. Well worth the money. Upcoming Courses
OSHA Hazard Communication Standard
$200.00
Occupational Safety and Health Standards for the General Industry
OSHA Personal Protective Equipment
$200.00
10HR OSHA Personal Protection Equipment Course
Lead Abatement Worker Initial 24 Hr C...
$450.00
Lead Abatement Worker Initial 24 Hr Class Lead Abatement Worker ~ Initial: The Lead Abatement Worker - Initial Course is an EPA/State of Michigan accredited course which is required of those who wish to perform lead abatement activ...
Michigan Builders Continuing Educatio...
$60.00
State of Michigan Builders Continuing Competency / Con-Ed 3 HR. Minimum required class to renew your builders license for State of Michigan Residential Builders. Class consists of the following areas: 1) One (1) Hour of Law Updates,...
Course Packages
Purchase a package of courses to receive a discount!
Basic OSHA Construction Awareness
$50.00
Package includes:
OSHA Lead Awareness Training - OSHA Lead In Construction Standard