YOU EARN MORE
WHEN YOU
LEARN MORE
We offer online and offline education
courses and certifications to builders,
contractors and tradesmen.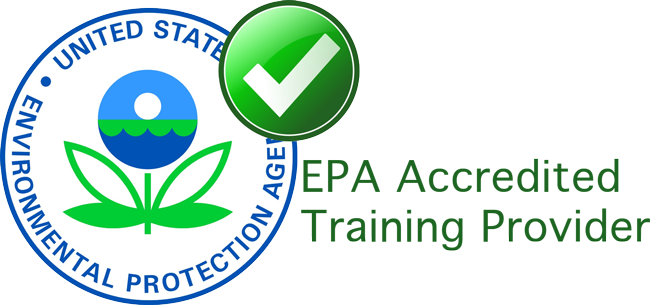 Need training? We have you covered!
We offer many courses, covering areas including: EPA Certified Renovator, Lead Abatement Supervisor, Lead Worker, Lead Inspector, Lead Risk Assessor, Mold Remediation, OSHA Compliance, Con-Ed / Continuing Competency, Builders 60 Hr Pre-Licensure Classes, 2 Hr Asbestos Awareness, Asbestos Abatement Supervisor Contractor, Asbestos Inspector
Browse Courses
Online Learning
Learn on your own time. Our online courses help you get certified without waiting for a scheduled course or having to show up in person. Sign up now to start learning today.
Excellent Instruction
We have trained and certified hundreds of professionals and with over 12 years hands-on experience in the industry, we train you to get the job done correctly.
Volume Discounts
Have a company? We offer discounts to companies so you can certify and train all of your employees. Our initial, refresher, and continuing classes keep your employees certified and help you avoid costly fines.
Testimonials
Thanks Ed, you did a great job today. Your presentation was excellent. I now know more than when I woke up this morning. "Hi Ed. I recommend you to anyone looking for lead remediation education and expert witness work. Great job!!!" Ed was very helpful in his recent role with the City of Pontiac in assisting the Michigan Land Bank obtain utility clearances for the demolition of 48 properties in the Pontiac NSP2 eligible census tracts. Very supportive interface with the city and passionate about his work! Thanks for the class this morning. It was great being able to have just our small group in training this morning. Made it a lot easier and enjoyable to absorb everything that we had to put into our brains (which isn't an easy task to do with our group!). The time just flew by and I appreciated your teaching style. If I ever decide to get more training into the lead business, I'll definitely be looking you up. Thanks again! If you enjoy working with an energetic self starting individual, you will like working with Ed. Ed knows the value of team work and is sincere about making the team succeed. Upcoming Courses
OSHA Hazard Communication Standard
$200.00
Occupational Safety and Health Standards for the General Industry
OSHA Personal Protective Equipment
$200.00
10HR OSHA Personal Protection Equipment Course
Lead Abatement Worker Initial 24 Hr C...
$450.00
Lead Abatement Worker Initial 24 Hr Class Lead Abatement Worker ~ Initial: The Lead Abatement Worker - Initial Course is an EPA/State of Michigan accredited course which is required of those who wish to perform lead abatement activ...
Asbestos Contractor Supervisor Refres...
$200.00
Asbestos Contractor Supervisor Refresher Course - 8 hour: This EPA / State of Michigan course is required for all asbestos abatement supervisors on an annual basis to keep certified. This is an EPA based one day (8 hour) course refre...
Course Packages
Purchase a package of courses to receive a discount!
Basic OSHA Construction Awareness
$50.00
Package includes:
OSHA Lead Awareness Training - OSHA Lead In Construction Standard