YOU EARN MORE
WHEN YOU
LEARN MORE
We offer online and offline education
courses and certifications to builders,
contractors and tradesmen.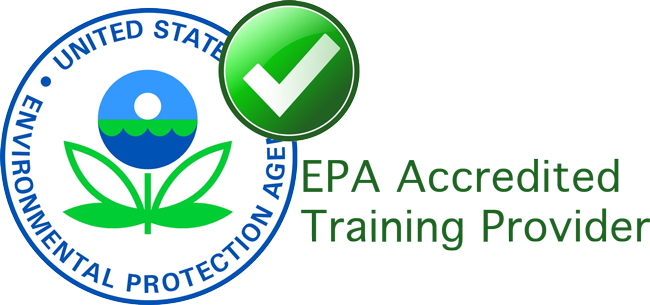 Need training? We have you covered!
We offer many courses, covering areas including: EPA Certified Renovator, Lead Abatement Supervisor, Lead Worker, Lead Inspector, Lead Risk Assessor, Mold Remediation, OSHA Compliance, Con-Ed / Continuing Competency, Builders 60 Hr Pre-Licensure Classes, 2 Hr Asbestos Awareness, Asbestos Abatement Supervisor Contractor, Asbestos Inspector
Browse Courses

E-Learning
Learn on your own time. Our online courses help you get certified without waiting for a scheduled course or having to show up in person. Sign up now to start learning today.
Excellent Instruction
We have trained and certified hundreds of professionals and with over 12 years hands-on experience in the industry, we train you to get the job done correctly.
Volume Discounts
Have a company? We offer discounts to companies so you can certify and train all of your employees. Our initial, refresher, and continuing classes keep your employees certified and help you avoid costly fines.
Featured Courses
Course Categories
Testimonials
I have worked with Ed regarding several of his business enterprises. He is detail oriented and prompt in all his efforts. He is a hard worker and has great enthusiasm for his projects. His knowledge of Lead Renovation requirements makes him the go to expert on the EPA regulations. I would like to thank you for an exceptional lead abatement class. Your work experiences and industry knowledge not only was informative but constructive. I would highly recommend this class to others in need of EPA certification. Ed was a fantastic instructor with incredible knowledge from real working experiences. As a small business start up, I felt like I gained confidence from his training session to help differentiate my strategy, and work safely for my clients and my family. Thanks Ed The Instructor was very informative and knowledgable. He made the class enjoyable and was extremely personable. What stood out the most was his willingness to help and the fact that he gave each attendee his card at the end of the class.