YOU EARN MORE
WHEN YOU
LEARN MORE
We offer online and offline education
courses and certifications to builders,
contractors and tradesmen.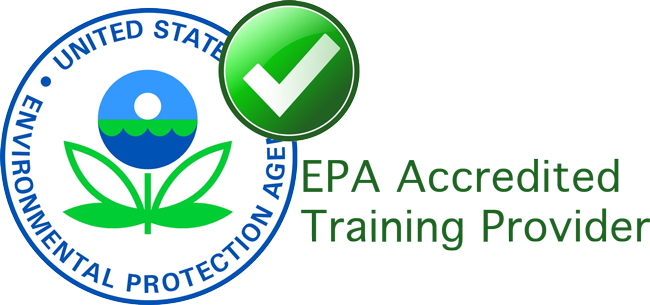 Need training? We have you covered!
We offer many courses, covering areas including: EPA Certified Renovator, Lead Abatement Supervisor, Lead Worker, Lead Inspector, Lead Risk Assessor, Mold Remediation, OSHA Compliance, Con-Ed / Continuing Competency, Builders 60 Hr Pre-Licensure Classes, 2 Hr Asbestos Awareness, Asbestos Abatement Supervisor Contractor, Asbestos Inspector
Browse Courses

E-Learning
Learn on your own time. Our online courses help you get certified without waiting for a scheduled course or having to show up in person. Sign up now to start learning today.
Excellent Instruction
We have trained and certified hundreds of professionals and with over 12 years hands-on experience in the industry, we train you to get the job done correctly.
Volume Discounts
Have a company? We offer discounts to companies so you can certify and train all of your employees. Our initial, refresher, and continuing classes keep your employees certified and help you avoid costly fines.
Featured Courses
Course Categories
Testimonials
"Ed came through for us when we needed him to quickly get out and train our team for their lead renovation certification. We will be looking to use Ed again next year if he is still completing these classes!" I first worked with Ed when I hired him to perform lead training for myself and several employees. Since then, Ed has become a trusted and reliable resource for our company. On several occasions he has provided consultation services for various projects. He is always available to answer any questions or provide advice when needed. I would highly recommend Ed to anyone looking for an expert in the lead industry. "I have worked with Ed for some time now and I have found his level of professionalism to be outstanding and backed up by his actions. Our feed back from his classes has always been very good with comments like "the class was well thought out and the hands on examples were very thorough and informative. " Ed's personal knowledge of EPA codes and standards is exceptional. His ability to explain jobsite situations that our customers can relate to has made his class a true learning experience. Even for our novice contractors. He has shown an ability to create a classroom atmosphere that anyone can learn in is what puts his class above his competition. We will be using Ed and his staff again in the future." Ed Wenz is organized, thorough, and brings his work experience in contracting, county government, and risk assessment to teaching the RRP and supervisor courses--which I took. He is a natural communicator with many stories and examples to explain the material. I especially liked the street-wise methods Ed shared that make compliance both common-sense and easy. I recommend that professionals take his courses. "With 37 years in the environmental industry, I have experienced both good and bad training/seminars/workshops. I am writing to state that Ed's Lead Abatement Supervisor course was one of the best continuing education experiences I have had in my career. Ed brings tremendous experience to the course; he is a natural communicator; he is practical. I have recommended Ed's training suite to my staff."